After private jets were introduced in the 1960s, they quickly became associated with extreme wealth and power. Frank Sinatra and Elvis Presley were among the first celebrities to purchase their own jets. The administration of former President John F. Kennedy replaced clunky military transport aircraft with the sleek Boeing VC-137C jet for use as Air Force One. In mid-century U.S., private jet flights were only an option for the richest of the rich.
Flying privately has become much more affordable in the decades since this period, though. Rather than just being an extravagant status symbol, private jets served a quite practical purpose in the business world. They helped travelers stay on schedule for out-of-town meetings and conferences by avoiding the crowded terminals and frequent delays of commercial air travel. This created a strong market for private jet chartering services, which allow you the benefits of private jet travel without the multimillion-dollar upfront cost of buying your own plane.
Indeed, you no longer need to be a president or rock star to fly privately. In this guide, we'll review the top five options for cheap private jet flights, and some important factors to consider when you're choosing a provider.
Affordable Private Jet Flights
XO — Top Pick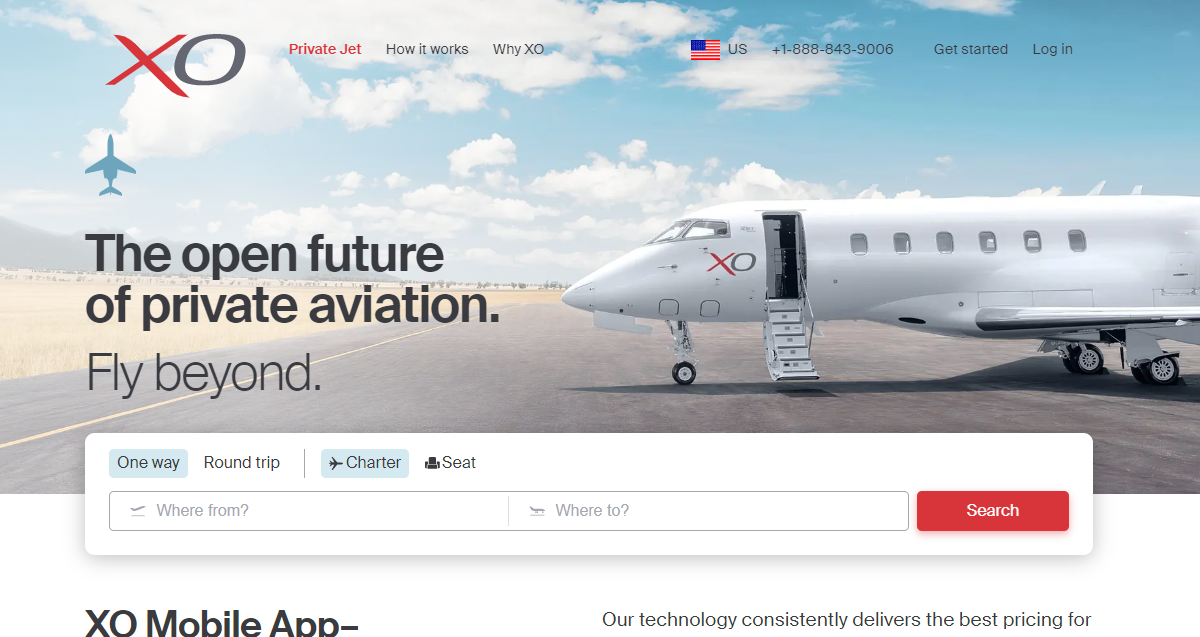 In addition to the particularly low rates available on this platform, we've determined that XO is the best option for cheap private jet flights due to their user-friendly mobile app and excellent selection of aircraft.
You can use this service as needed without committing to a membership program. After creating your account, you'll be able to easily review the real-time rates and availability for the 2,100+ aircraft in their network, and then book your flight with just a couple clicks. For the absolute lowest rates, XO gives you the option to reserve a seat on a private jet instead of renting the whole aircraft.
XO's membership programs offer a lot of value to travelers who fly on private jets relatively frequently. In exchange for the subscription fee (a minimum deposit may also be required, depending on which membership option you choose), you can access benefits such as reduced fees, guaranteed availability, and exclusive deals with other luxury brands.
Price
Buy as you fly: $395 service fee per booking

Rise: $595 annual fee

Select: $250 monthly fee, plus $50,000 minimum deposit

Signature: $500 monthly fee, plus $100,000 minimum deposit

Elite: $1,000 monthly fee, plus $100,000 minimum deposit

Subscription-Based or Per Flight
Both options available
On-demand or Scheduled
Both options available
Available Flight Locations
U.S., Europe, Middle East
Pet Policy

Pets are usually allowed if you are chartering a whole plane
Only registered service or emotional support animals are allowed when renting a seat on a shared flight
BLADE — Best for Traveling in the Northeast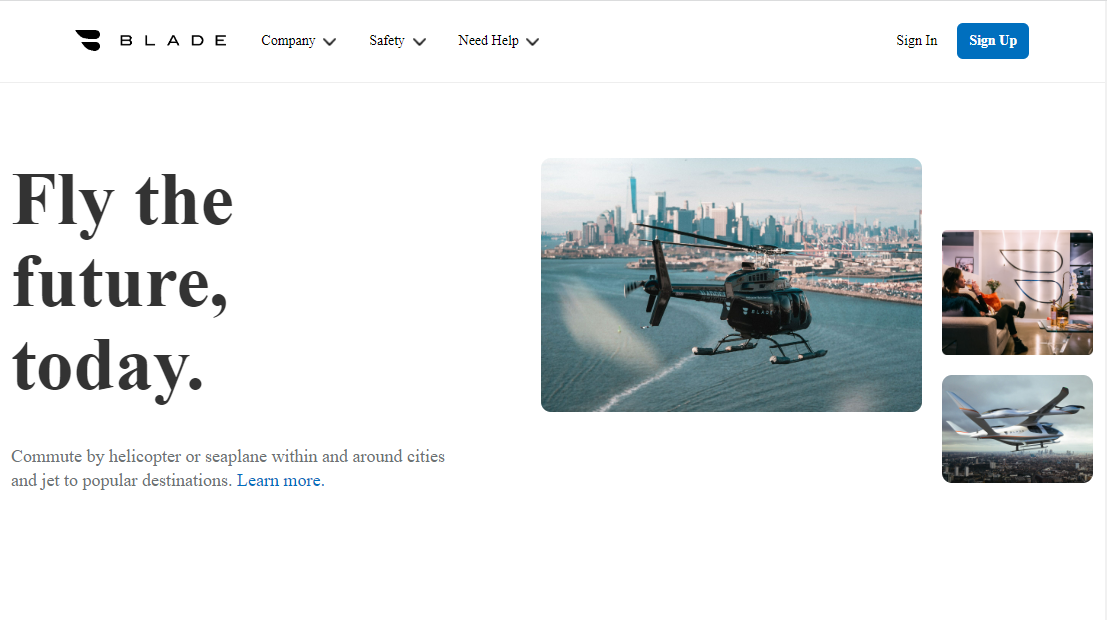 This provider is similar to XO in that you can save money by booking a seat rather than renting the entire aircraft. Also, BLADE has made more efforts to improve sustainability  than most of your other options — they purchase enough carbon offset credits to make their service 100% carbon-neutral. They have been investing in electrical vertical aircraft (EVA) to make their fleet more environmentally-friendly as well.
BLADE allows you to charter flights to a variety of locations, but this New York City-based service offers their best deals on flights to destinations in the northeastern U.S. such as Manhattan, Queens, Newark, Teterboro, and the Hamptons. If you're flying out of New York City, you can even have one of BLADE's helicopters pick you up and quickly take you to the airport.
| | |
| --- | --- |
| Price | Shared flights start at $795 |
| Subscription-Based or Per Flight | Per flight |
| On-demand or Scheduled | Both options available |
| Available Flight Locations | Worldwide |
| Pet Policy | Pets are allowed, but must be approved by BLADE |
Surf Air — Best Selection of Flight Locations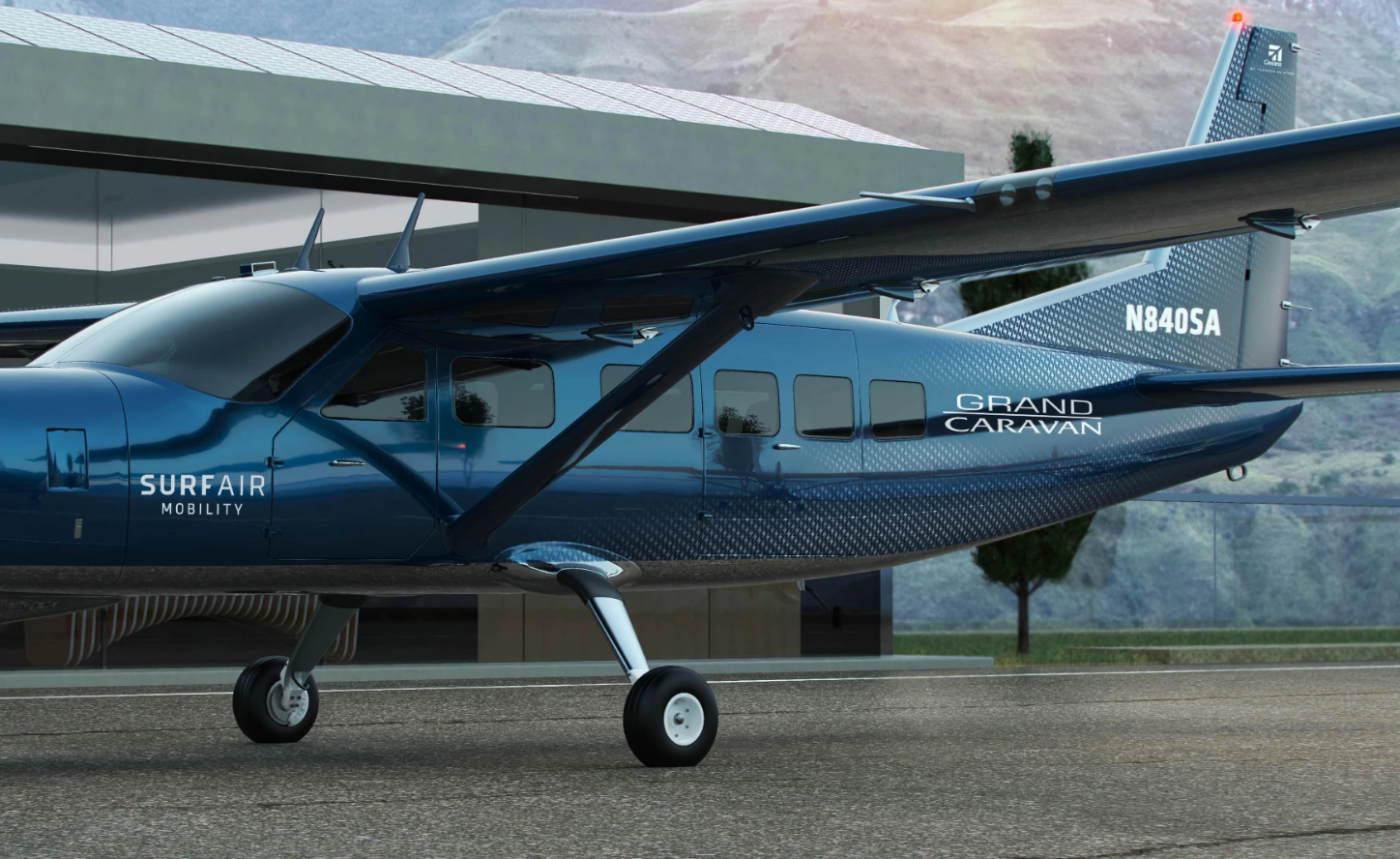 Of all the private jet services featured in this guide, Surf Air provides you with the best selection of destinations.  With over 5,000 regional and international airports available in their network, Surf Air offers over 10 million possible route combinations to choose from for your flights. In addition to ordering flights on-demand, they also offer flights on a fixed schedule to select destinations in California, Nevada, Arizona, and Texas.
Surf Air's Access membership tier only costs $199 per month, and it allows you to access all flights on a per-seat basis (per-seat rates are as low as $99 per flight). The Freedom tier is $2,499 per month and allows you to access most of their scheduled flights at no additional cost. But the Unlimited tier provides you with complete access to their scheduled flights for $2,999 per month.
Price
Access: $199 per month

Freedom: $2,499 per month

Unlimited: $2,999 per month

Subscription-Based or Per Flight
Both options available
On-demand or Scheduled
Both options available
Available Flight Locations
5,000+ airports across the U.S.
Pet Policy
One animal is allowed per flight, with service animals and emotional support animals taking priority
SetJet — Best for Traveling in the Southwest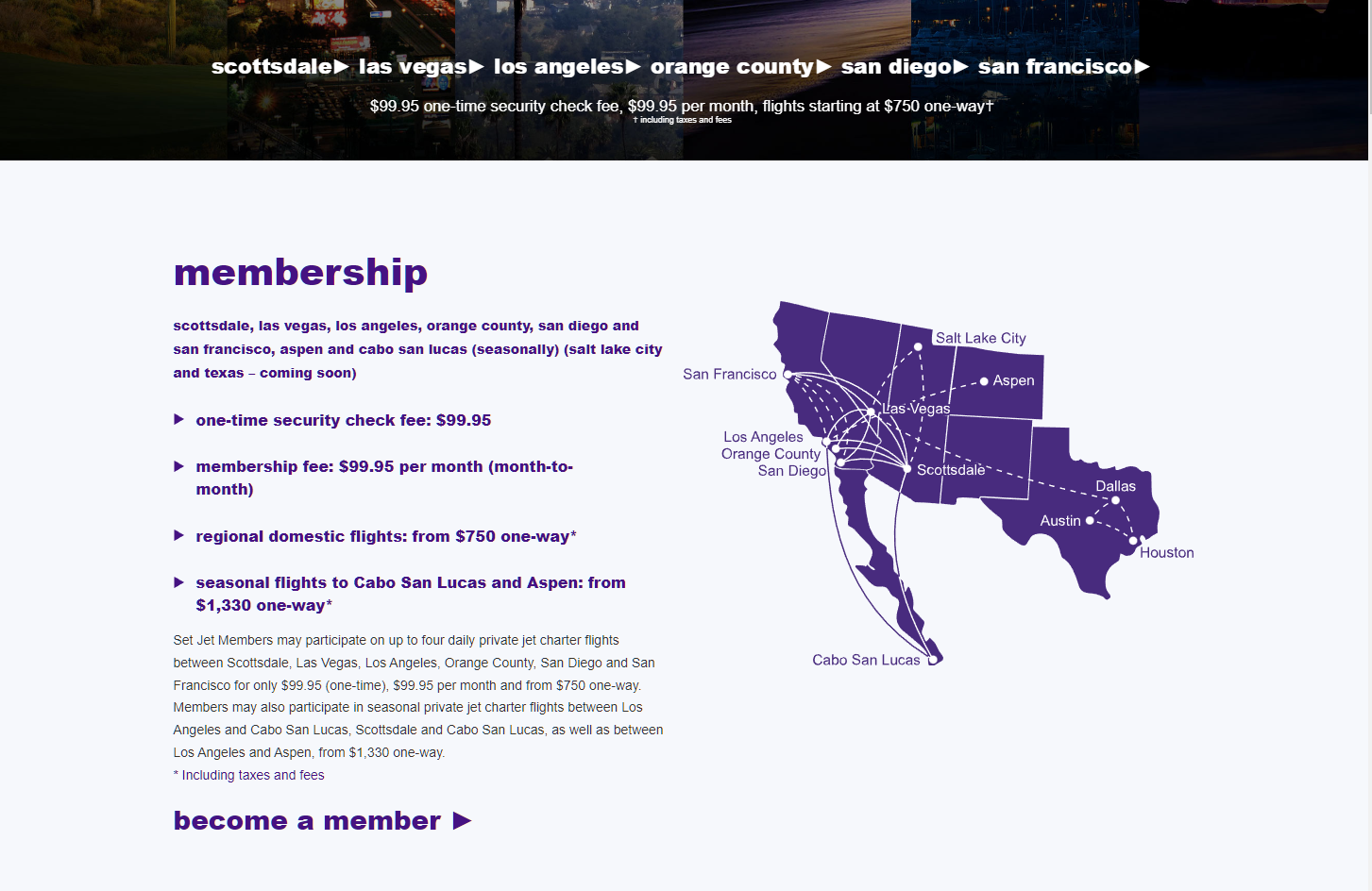 Set Jet's Standard Membership offers up to four daily flights between Scottsdale, Las Vegas, Los Angeles, Orange County, San Diego, and San Francisco (the rates for these trips start at $750 one-way). Seasonal flights between Los Angeles and Cabo San Lucas, Scottsdale and Cabo San Lucas, and Los Angeles and Aspen are available as well (these one-way trips start at $1,330).
By upgrading to the Elite Membership, you can access a daily flight between New York and Los Angeles (these one-way trips start at $4,500). Their fleet is currently made up of five custom Bombardier Challenger 850 jets, which have interiors that are finished with high-gloss burl wood, marble, soft leather, and rich carpeting. Set Jet's flight locations may be somewhat limited, but they offer a lot of value for anyone who is traveling in their service area.
Price
Standard: $99.95 per month, plus one-time $99.95 security check fee

Elite: $999.95 per month, plus one-time $99.95 security check fee

Subscription-Based or Per Flight
Subscription-Based
On-demand or Scheduled
Scheduled
Available Flight Locations
Scottsdale, Las Vegas, Los Angeles, Orange County, San Diego, San Francisco, Aspen, Cabo San Lucas, New York
Pet Policy

Dogs, cats, and household birds are allowed
No fee for small pets (up to 20 pounds),
A $200 fee for medium pets (21 to 60 pounds)
A $350 fee for large pets (over 60 pounds)
FlyBLACK — Best Aircraft Selection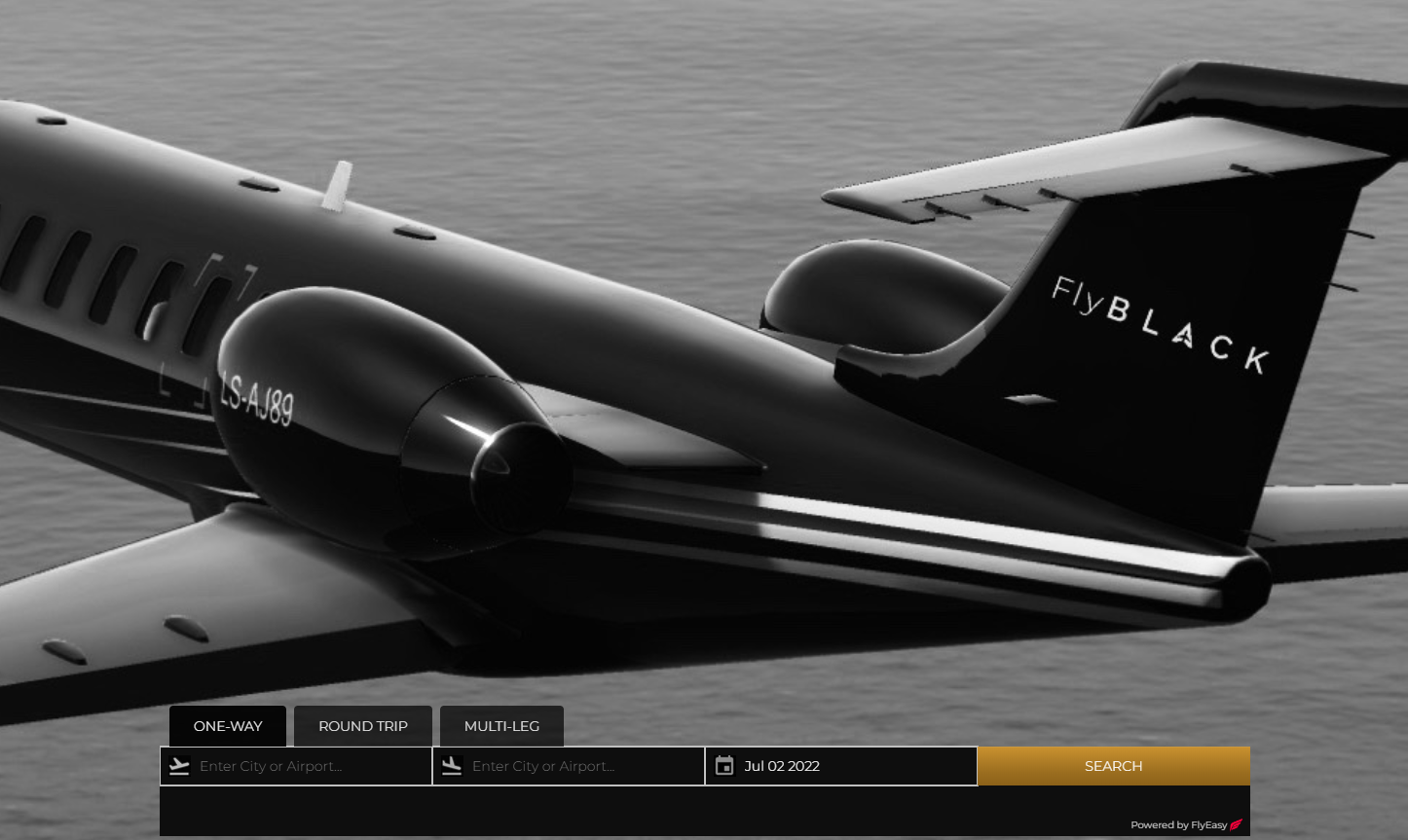 FlyBLACK has over 3,000 private jets available in their network, offering greater aircraft selection than the other providers featured in this guide. Whether you just need a light jet for a short domestic trip or a long-range heavy jet for flying across the Atlantic, you'll find the perfect solution for your travel needs here.
There are two ways to book flights through FlyBLACK: JetCharter and JetDeals. JetCharter allows you to set up on-demand flights, while JetDeals offers highly reduced rates for flights that have already been scheduled. You can also access additional benefits such as more JetDeals availability, complimentary ground transportation, and exclusive deals with other brands through FlyBLACK's Elite membership program.
Price
Lifestyle: No upfront cost (limited access to JetDeals and other perks)

Elite: $2,500 per year (full access)

Subscription-Based or Per Flight
Both options available
On-demand or Scheduled
Both options available
Available Flight Locations
Worldwide
Pet Policy
Not listed
Factors to Consider When Choosing a Private Jet Flight
The best private jet company for one person might not be ideal for another — it all depends on your specific travel needs. Each provider has its own set of policies regarding subscription costs, membership benefits, and flight schedules among other things. To make sure you pick a provider that's a good fit for your situation, take the following factors into account.
Membership and subscription costs
Some private jet companies only allow you to charter flights as needed, while others require you to commit to a membership program. There are also providers that offer both of these options. Membership programs do offer many benefits, such as reduced rates and guaranteed availability for select aircraft, but they usually also come with costs such as subscription fees and non-refundable deposits.
As a general rule, if you spend more than 25 flight hours per year on private jets, membership programs are usually worth the cost. Otherwise, it is good to stick with booking flights as needed.
Ground transportation logistics
Some providers offer hundreds of airports to choose from, while others only have a handful of options. Be sure to consider this when evaluating private jet companies. For example, maybe you've narrowed it down to two providers, and the biggest difference between them is one has an airport 20 minutes away while the other is two hours away — the choice should be clear.
There are providers that offer free ground transportation as a membership benefit. If you plan to fly frequently, this can save you a lot of money.
Scheduled or customizable flight options
If you plan your travel arrangements well in advance, look for a provider that allows you to hop on pre-scheduled flights, as these trips are generally available at the lowest rates. But if you expect to book flights on short notice, you must find a provider that allows you to set up custom routes and fly on-demand. Customizable routes may also be necessary if you plan to fly to relatively less popular destinations.
What Are Empty Leg Charter Flights?
When someone charters a plane for a one-way trip, there may not be any passengers scheduled to be on board when it returns back to base or moves on to the next destination. These trips are known as "empty leg" charter flights, and they're often offered at steep discounts so that private jet companies can generate at least some income. If you're able to make these trips work for your travel schedule, you may save 75% or more on the cost of private jet flights.
How do I find empty leg charter flights?
You may not get a lot of notice for when a particular empty leg charter flight becomes available, so you'll need to keep an eye out to take advantage of these discounts. Many providers, such as Jettly and VistaJet, maintain public empty leg listings. If possible, we recommend that you sign up for email alerts for any empty leg flights that become available on routes you're interested in. Also, some providers offer exclusive empty leg deals for anyone who is subscribed to their membership program.