Private jets aren't just for celebrities, sports teams, and corporate executives. If you're tired of dealing with overbooked commercial flights and chaotic airport crowds, buying a small private jet could be the right move for you. Attempting to fly anywhere during the COVID-19 pandemic has proven to be even more stressful and restrictive than ever before. Wouldn't it be nice to hop aboard a private plane at your own discretion? Even though small private jets are becoming more accessible to the public, they will cost you quite a bit of cash. To give you a head start on your research, here is a list of the top 10 small private jets.
Top 10 Small Private Jets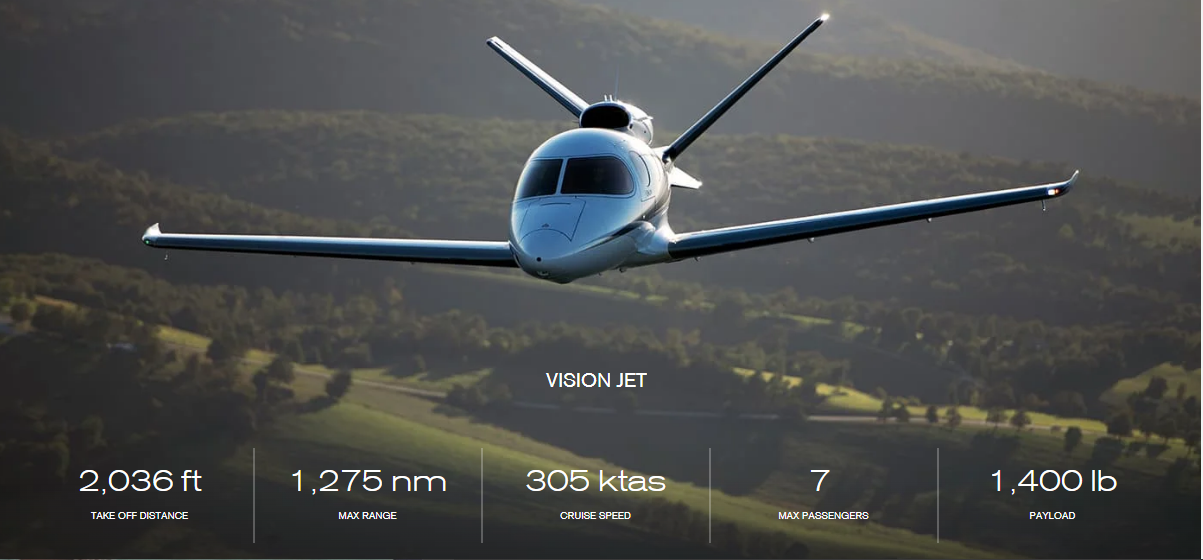 Innovation pilots the Cirrus Aircraft company, and that continuous focus on advanced technology has led to the creation of the Vision Jet. This aircraft provides an accessible intersection of speed, comfort, and convenience for approximately $2 million. Not only is the price right, but the single-engine simplicity makes it a breeze to own and operate for personal use. With the Cirrus JetStream ownership program, customers will enjoy access to the company's global network of Vision Pilots and fellow owners to take their experience and knowledge higher. Owners can choose from a variety of colorways to stand out on the runway and customize the seating arrangement in the 4-foot-tall cabin to accommodate individuals and families alike.
Cirrus takes safety to another level with award-winning, company-exclusive features such as the Surface Watch system and the Cirrus Airframe Parachute System (CAPS). Designed to protect both passengers and pilots, this new safety technology will put your mind at ease. Owners interested in piloting their own aircraft can even receive Cirrus-specific training with the company's Approach flight program. The Autothrottle capability allows operators to program and create flight profiles from climb to descent, automating the experience. Electronic stability and protection add yet another layer of comfort and ease for a smooth, safe ride.
| | |
| --- | --- |
| Cost | $2 million |
| Passenger capacity | 6 passengers |
| Baggage capacity | 300 lb |
| Maximum range | 1,275 NM |
| Maximum speed | 311 KTAS |
| Cabin height | 4 ft 1.2 in |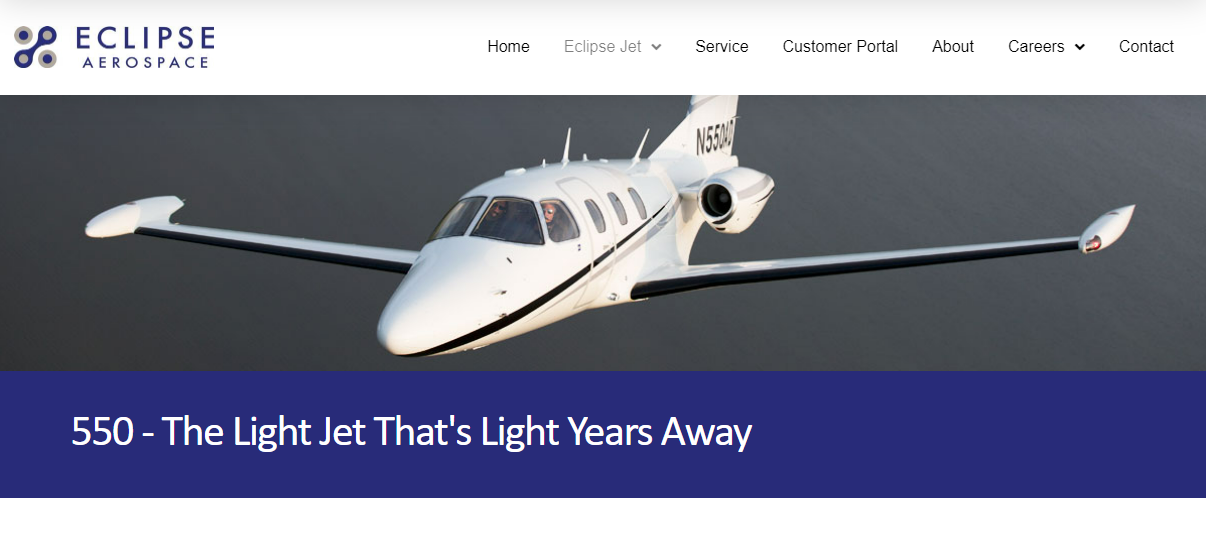 Eclipse Aerospace created the Eclipse 500 with efficiency and safety in mind and catered to individuals and business people looking for an alternative to large commercial planes. Priced at just over $2 million, this aircraft sits on the less expensive end of the spectrum compared to other small private jets. Designed for short flights and limited passengers, the Eclipse 500 bears a close resemblance to the Cirrus Vision Jet.
The Eclipse 500 is part of an impressive category of small private jets called Very Light Jets (VLJ). This lightweight aluminum plane is equipped with Pratt & Whitney Canada twin-turbofan engines controlled by an all-electric avionic system. Operators can reach altitude heights of up to 41,000 feet no matter the weather. Inside the aircraft, seats can be arranged for up to six people. Like other small aircraft, this one lacks a lavatory, which could be an issue for those who make frequent trips to the bathroom.
Eclipse Aerospace designed this jet with streamlined safety features built into the integrated avionics system, allowing for enhanced situational awareness of weather and traffic. The single-pilot plane also features an advanced flight management program that automates a variety of in-flight functions, allowing operators to better focus on their surroundings.
| | |
| --- | --- |
| Cost | $2.49 million |
| Passenger capacity | 6 seats |
| Baggage capacity | 995 lb |
| Maximum range | 1,125 NM |
| Maximum speed | 375 KTAS |
| Cabin height | 3.9 ft |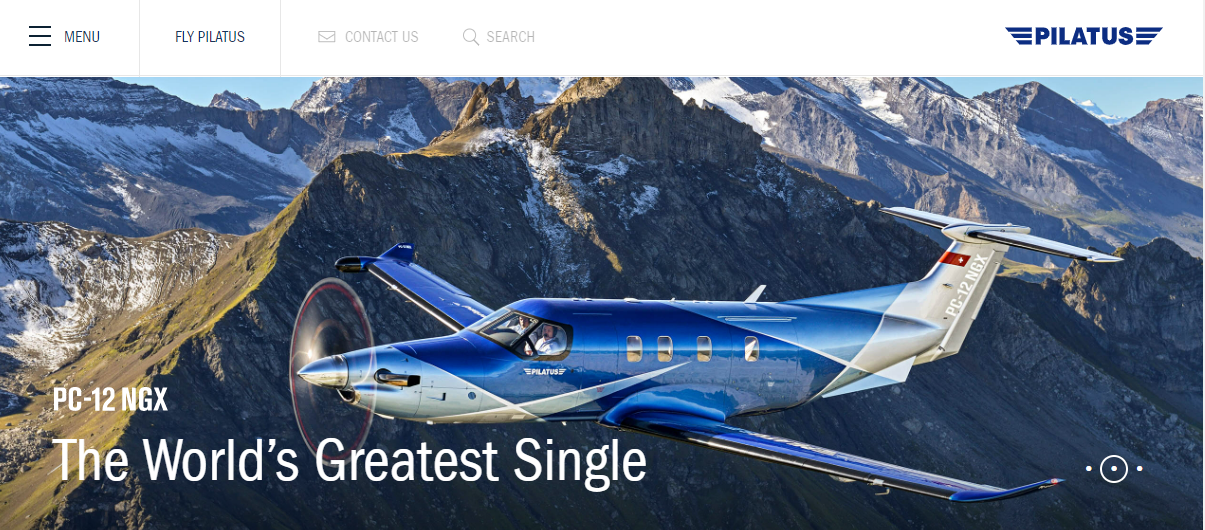 Coming in at No. 3 on our list is the Pilatus PC-12, a versatile personal aircraft popular with owner-pilots, law enforcement agencies, corporations, and charter companies. A single Pratt & Whitney Canada PT6 turboprop engine powers the Swiss-made PC-12, a model with a flying range of over 1,800 NM. Pilatus designed the aircraft to rival the safety, function, and performance of twin-engine planes. Considered one of the safest small private jets in the field today, the PC-12 has nearly 9 million hours of flight time and has seen only 22 worldwide fatal accidents over the last 30 years.
The next-generation PC-12NGX is the latest release within the PC-12 line, adding another quality aircraft model to the legacy. With over 1,700 PC-12 planes manufactured in the last three decades, Pilatus has earned its solid reputation within the industry. This new aircraft was made with business aviation in mind. Pilatus teamed up with BMW Designworks to deliver a truly unique interior, complete with hand-sewn leather executive seats that fully recline. Passengers can stay connected in the air with access to Wi-Fi and entertainment streaming. Pilots fly with the latest technology at their fingertips in the PC-12NGX. Advanced Cockpit Environment (ACE), autopilot, and Emergency Descent Mode (EDM) are just a few of the features available to aircraft operators.
| | |
| --- | --- |
| Cost | 3.4 million |
| Passenger capacity | Up to 10 passengers |
| Baggage capacity | 40 ft3 |
| Maximum range | 1,803 NM |
| Maximum speed | 290 KTAS |
| Cabin height | 4 ft 10 in |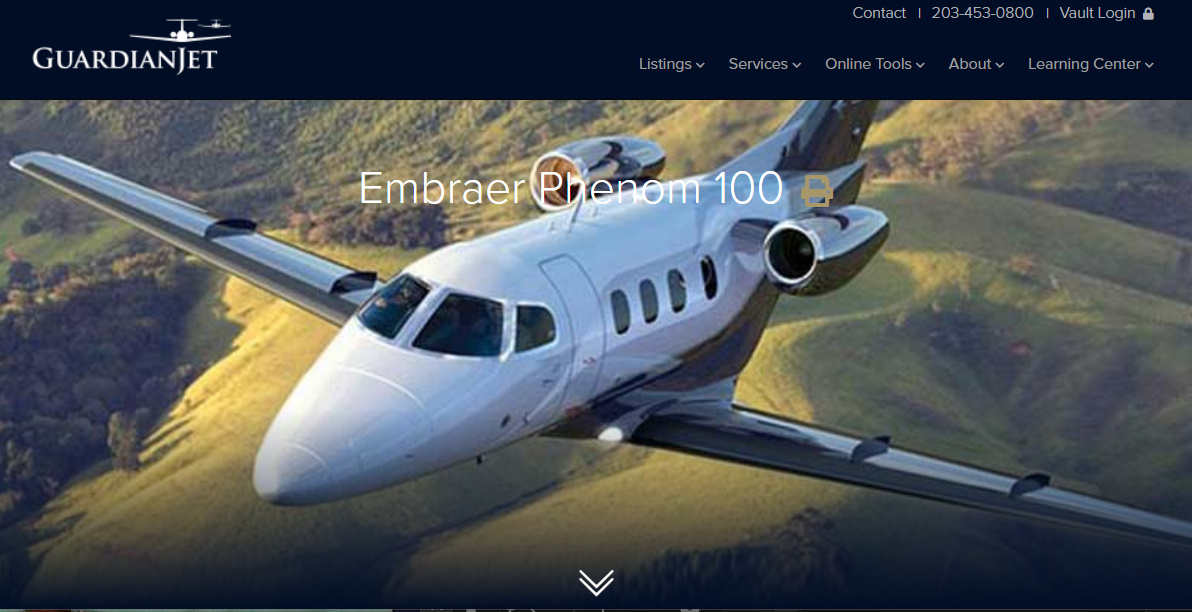 The Brazilian-made Embraer Phenom 100 falls under the VLJ category but despite its size, boasts a nearly 5-foot cabin height and optional toilet. Although you can fit up to seven passengers and a lavatory on the plane, you may not have much space left to keep your bags. There's no doubt that the flight will be comfortable even with its lack of storage. Embraer is another aircraft company to partner with BMW Designworks to create a lavish and ergonomic interior with the best natural lighting possible from large, strategically placed foot-long windows. At just over $4 million, the Phenom 100 is a low to midrange price compared to other small private jets.
This aircraft is powered by double rear-mounted Pratt & Whitney Canada PW600 turbofan engines. First manufactured in 2005, the Phenom 100 was certified to fly by 2008, and nearly 400 aircraft have been produced since then. Designed for single-pilot operation, Embraer has streamlined its aviation system by automating tasks and replacing control panels with state-of-the-art display screens and soft keys using G1000 avionics. The simplification of the cockpit has enabled pilots to focus their time on situational awareness instead of navigating switchboards.
| | |
| --- | --- |
| Cost | $4.2 million |
| Passenger capacity | Up to 7 passengers |
| Baggage capacity | 6 ft3 |
| Maximum range | 915 NM |
| Maximum speed | 390 KTAS |
| Cabin height | 4 ft 10.8 in |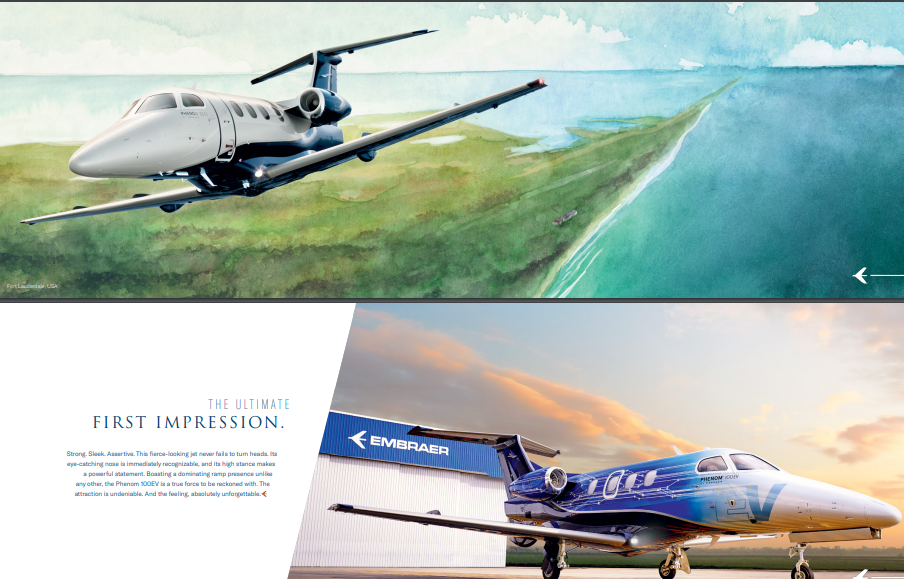 The Phenom 100EV is an updated version of the Phenom 100 at the No. 4 spot on our list. EV stands for Evolution, and the Phenom 100 has definitely evolved through this new model designation. The flight deck received a dramatic upgrade from G1000 avionics to the Garmin G3000 touch-screen system. This is the first glass touch screen designed for this type of aircraft, providing an integrated experience for operators. The Phenom 100EV also features an improved climbing time thanks to the higher thrust of the new Pratt & Whitney Canada PW617F1-E engines, dropping 7 minutes off the time it takes to reach 41,000 feet.
Almost everything has improved in this version of the Phenom 100. Embraer provides 70 cubic feet of storage in this new model, depending on what kind of layout you choose. There are 11 interior themes to pick from ranging from upholstery coloring to seat configuration. The optional fully enclosed lavatory even has its own window. If you don't need a bathroom, the Phenom 100EV comes standard with a refreshment center instead. Dual temperature zones allow for custom environmental comfort in both the cockpit and the cabin. Although the Phenom 100EV is slightly more expensive than its predecessors, the evolution is undeniable.
| | |
| --- | --- |
| Cost | $4.5 million |
| Passenger capacity | Up to 7 passengers |
| Baggage capacity | 70 ft3 |
| Maximum range | 1,178 NM |
| Maximum speed | 406 KTAS |
| Cabin height | 4 ft 11 in |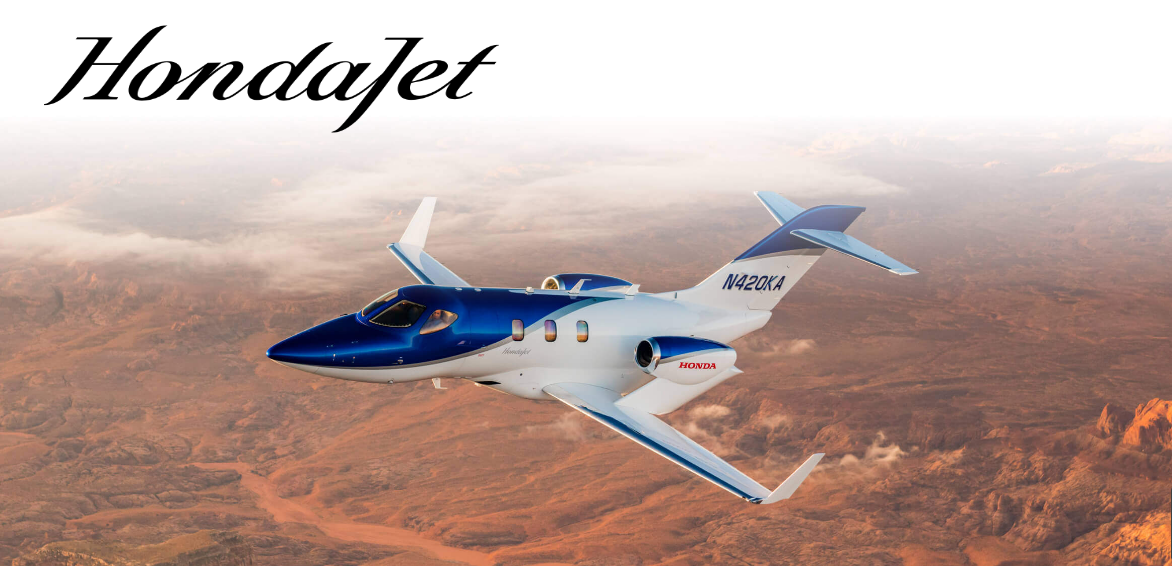 The Honda HA-420 HondaJet is an aesthetically-pleasing aircraft. Its vivid colors and sleek design are sure to impress on the runway. Sitting at the No. 6 spot, this HondaJet is a remarkable midrange personal aircraft. The price, size, and speed make this a smart pick for those who can afford the upgrade.
The body of this plane alone is an impressive feature. Instead of being made from standard aluminum, the HondaJet was manufactured with a combination of lightweight carbon composite fuselage that can withstand the extreme air pressure of flying at higher altitudes. Get to your destination faster, safer, and more efficiently with this unique construction. Honda has even developed an over-the-wing engine mount for a quieter flight and more room to safely move about the cabin. With 20% more cabin space than similar jets, passengers can store their belongings within a roomy baggage compartment.
Equipped with a Garmin G3000 flight deck, the HondaJet is certified for a single pilot. A full 14 inches of high-resolution touch-screen avionics allows for ease of operation and a very customizable system. The latest technology allows pilots to automate flight tasks and increase their situational awareness as they fly.
| | |
| --- | --- |
| Cost | $4.5 million |
| Passenger capacity | Up to 5 passengers |
| Baggage capacity | 66 ft3 |
| Maximum range | 1,123 NM |
| Maximum speed | 422 KTAS |
| Cabin height | 4 ft 9 in |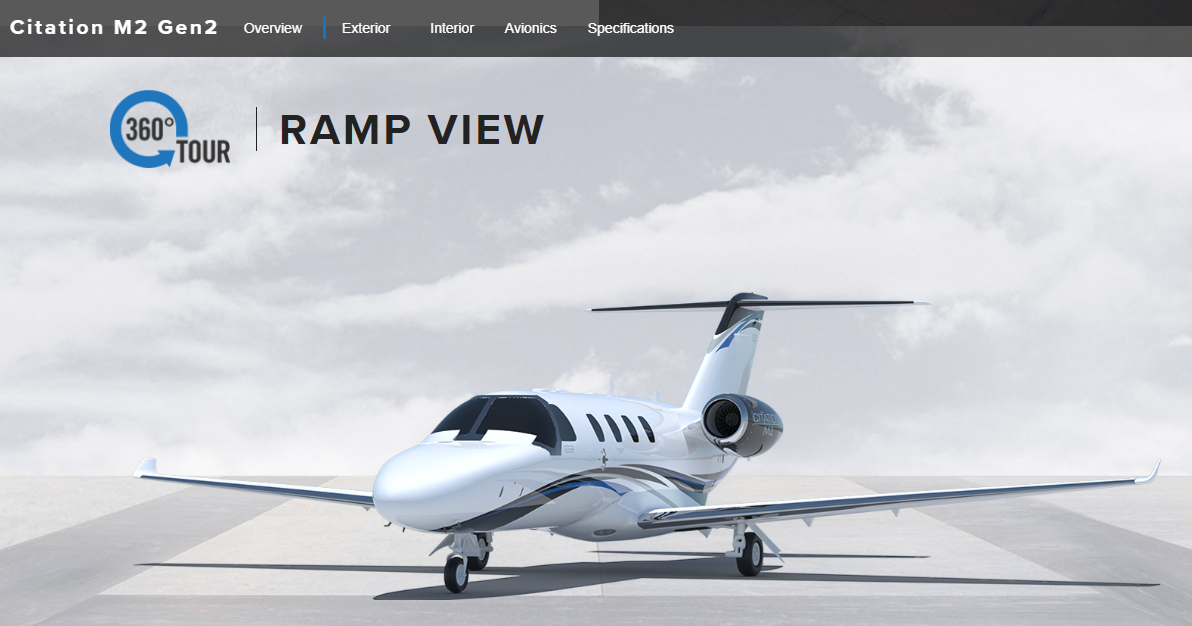 The Cessna Citation M2 was created for the private, corporate, and charter flier. Cessna has blended luxurious interiors with industry-leading technology to provide top performance in comfort and style. The spacious cabin allows for seating of up to seven passengers, not including the single pilot. Choose from four colorways to customize the seat, flooring, and interior wall colors of your M2. Breathe in a constant stream of clean air with the Fresh Air System. Outside air is pulled into the plane, superheated by the engine to kill any pathogens, and then cooled before being released into the cabin.
Cessna made the M2 compatible with LinxUs Air when equipped with Garmin's Wi-Fi Datalink and Iridium Satellite Receiver. These LinxUs features work together with the Central Diagnostics Maintenance System (CDMS) to monitor and provide real-time answers to onboard issues 24/7. In the air, pilots can use the autopilot feature to get the best performance out of the M2. Operators receive navigation guidance and data from the integrated avionics system during flights, allowing them to fly at maximum efficiency and safety. The flight deck runs a Garmin G3000 system with a customizable touch screen control panel.
| | |
| --- | --- |
| Cost | $5.75 million |
| Passenger capacity | 7 passengers |
| Baggage capacity | 45.6 ft3 |
| Maximum range | 1,150 NM |
| Maximum speed | 404 KTAS |
| Cabin height | 4 ft 9.96 in |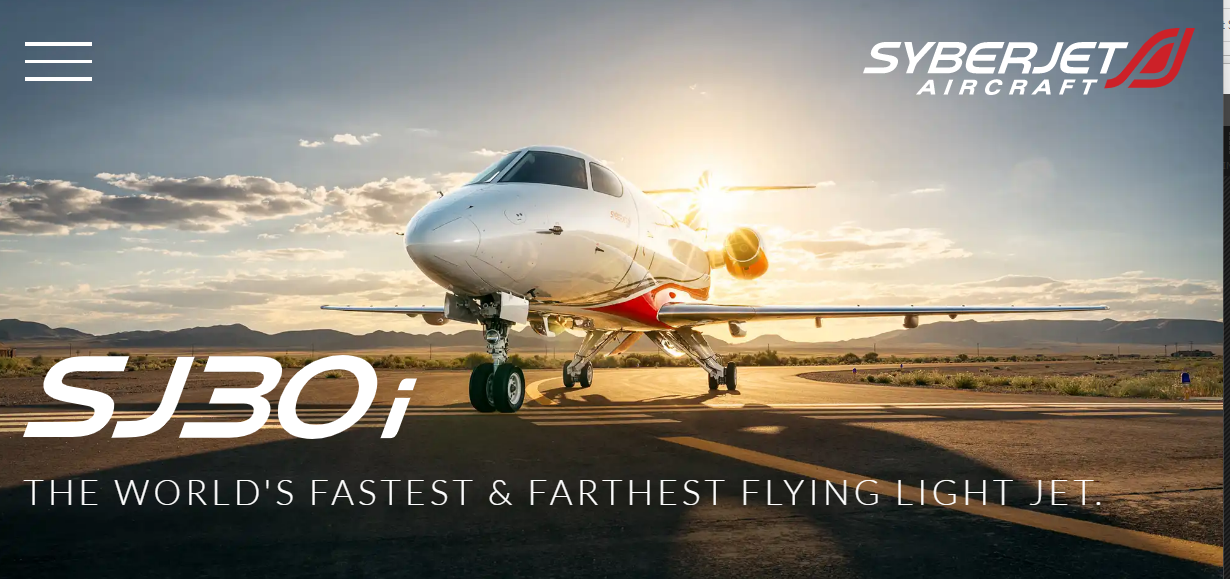 The SyberJet SJ30 is our No. 8. First created by the American company SyberJet Aircraft in the 1980s, the SJ30's most recent incarnation is the SJ30i. With a high speed of 486 KTAS, the SJ30i is the fastest among all small private jets on our list. Not only is the SJ30i fast, but it also provides some of the lowest cabin pressure even at high elevations of over 41,000 feet. The flight deck runs a Honeywell avionics suite developed specifically for the SJ30i, a sophisticated program by the name of SyberVision. The suite is packed full of interactive navigation maps for terrain and weather and features intuitive controls to manage the plane's health.
Outside of personal or corporate use, the SJ30i is an exceptional training tool for individuals studying to become airline pilots and those in the military. Exposure to advanced avionics and full-motion simulators allows for full immersion in flight. Additionally, the SJ30i is used worldwide as an air ambulance. The consistent sea-level cabin pressure lends itself to a lower operative cost and easier accessibility. Lastly, this aircraft model is used for surveillance and keeping watch from a distance. Government and law enforcement agencies worldwide use the SJ30i to carry out intelligence, surveillance, and reconnaissance (ISR) missions.
| | |
| --- | --- |
| Cost | $7.3 million |
| Passenger capacity | 3 passengers |
| Baggage capacity | 190.6 ft3 |
| Maximum range | 2,500 NM |
| Maximum speed | 486 KTAS |
| Cabin height | 4 ft 3.6 in |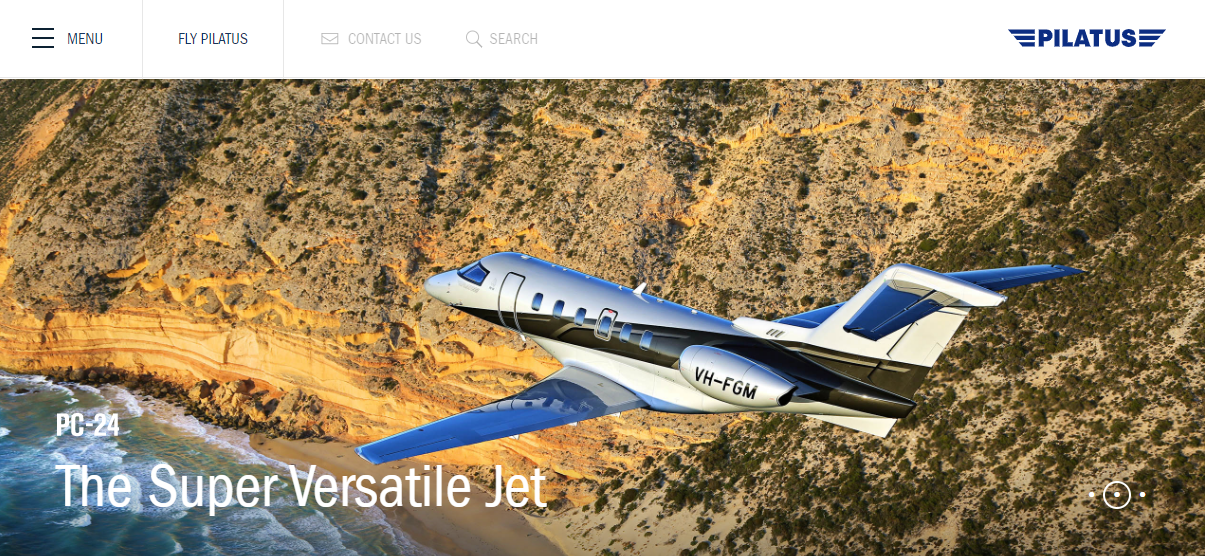 Flying in at No. 9 is the PC24, another Swiss-made Pilatus aircraft to make our top-10 list. This twin-engine jet grants greater speed and range than the previous PC-12 model. Although this plane's genesis was in 2007, it wasn't certified until a decade later in 2017 when it became the first jet-powered plane manufactured by Pilatus. The company created its own category for the PC24: Super Versatile Jet (SVJ), due to its larger size but peak light-jet performance and its ability to off-road on short unpaved runways. You can fit up to 11 passengers within the PC24 and still have room to keep baggage in the 90 cubic feet of the storage compartment.
With a range of 2,000 NM, this plane can stay in the air longer than most small private jets. It doesn't need much range when it comes to runways, however. The braking system and slow approach features allow for landings on smaller, rougher runways. These specialized features allow access to pilots flying an air ambulance. The pilots may need to traverse unpaved surfaces and smaller landing and takeoff areas, an especially handy skill that opens up a world of airports inaccessible by other small private jets.
Exclusive to Pilatus is the Crystal Class Support warranty and service package. Once your manufacturer's warranty is up (usually within the first two to five years), you will need to plan how to receive coverage for maintenance and repair tasks. Crystal Class Support covers most performance and maintenance items when it comes to the regular care of your aircraft. However, it does not cover things like paint, interiors, and engines.
| | |
| --- | --- |
| Cost | $8.9 million |
| Passenger capacity | 11 passengers |
| Baggage capacity | 90 ft3 |
| Maximum range | 2,000 NM |
| Maximum speed | 440 KTAS |
| Cabin height | 5 ft 1 in |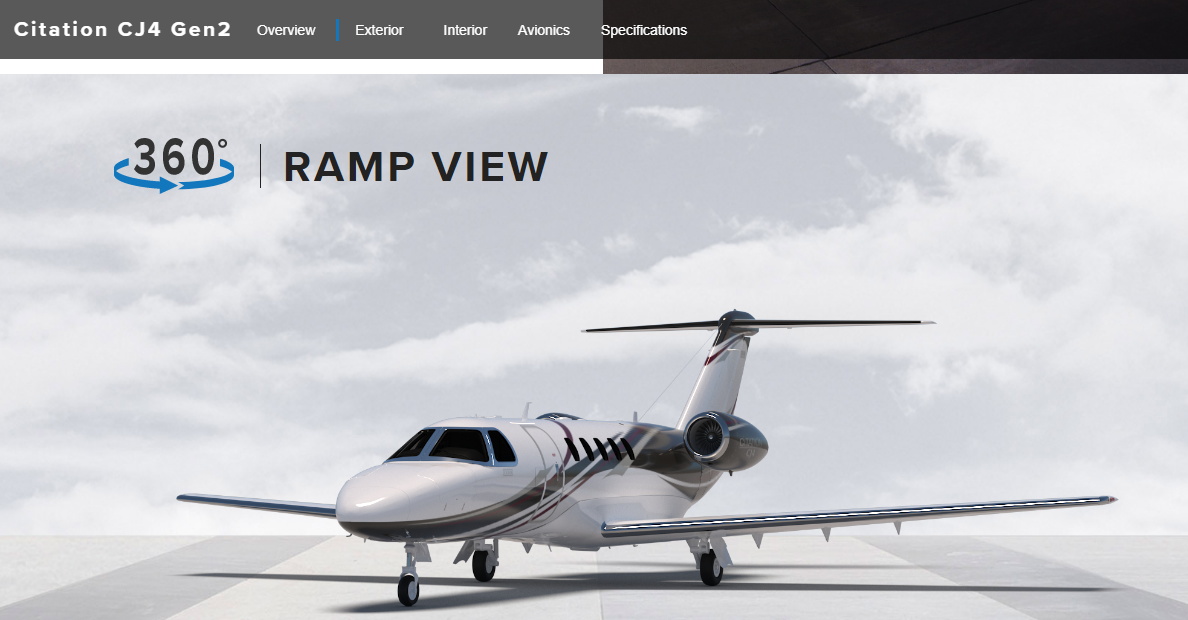 The Citation CJ4 model is the most recent to come from Cessna's line of aircraft, and even more recent is the CJ4 Gen2. A new generation means upgrades and evolutions. For just over $9 million, you can count on a luxurious interior made of the best quality materials and design. Owners can choose from four different seat arrangements and seven colorways for upholstery, floor, and wall colors. Passengers will enjoy the overhead skylights that not only provide great natural light but a whole new experience of a view above the aircraft as you fly. Similar to the Citation M2, the CJ4 uses the Fresh Air System to rejuvenate the cabin and keep a continuous cycle of fresh air streaming into the aircraft.
Created with convenience and intelligence in mind, the CJ4 flight deck features a Collins Aerospace Pro Line 21 avionics suite, allowing for single-pilot operation. Pilots can easily detect and navigate around weather systems to avoid turbulent skies with the Collins Aerospace RTA-4112 MULTISCAN Weather Radar. This enhanced weather tracking system comes standard with the latest CJ4 model. When it's time to land the plane, passengers will appreciate the smooth moves of the long-stroke, trailing link landing gear located inboard.
| | |
| --- | --- |
| Cost | $9.2 million |
| Passenger capacity | 10 passengers |
| Baggage capacity | 77.1 ft3 |
| Maximum range | 2,165 NM |
| Maximum speed | 451 KTAS |
| Cabin height | 4 ft 9 in |
How Much Does a Small Private Jet Cost?
Companies manufacturing small private jets are continuing to design aircraft to better accommodate personal use. Even though these planes are becoming more accessible to the general public, buyers should expect to pay at least $2 million at the entry-level for a brand new plane. Private aircraft can even reach prices in the hundreds of millions for larger, highly customizable jets. On top of purchase prices, there are storage, fuel, and maintenance fees to pay each year. Annual fees alone can range from $500,000 to $1 million.
Before you buy your own personal jet, be sure to count the costs. If you don't fly at least 200 hours per year, it may not be the best investment to make. You might want to explore private jet charters or jet card programs instead. Those who meet this minimum fly time and can afford the purchase are usually advised to look into buying their own aircraft. Small private jets are advanced and intricate machines built to do something as extraordinary as flying, so their high price tag is understandable. Do your research and compare all of the top options to make an informed decision on such a large investment. Then, take to the skies!