XO Overview
XO was created when XOJET, one of the leading private jet companies in the U.S., merged with JetSmarter, the developer of a mobile app for chartering flights. This combination of aviation experience and advanced technology provides travelers with a particularly easy way to book trips on private jets.
It's also worth noting that XO is one of the most environmentally friendly companies in this industry. But one drawback to using XO is that its pricing would ideally be more inclusive — for example, most members will need to pay a separate fee for deicing. In this guide, we'll review XO's fleet, partnerships, membership options, and everything else you should know about this private jet company.
Notable features
XO sets itself apart from nearly all of the competitors in the following areas:
Aircraft selection: From light jets for relatively short trips to heavy jets for trans-atlantic flights, XO is able to provide you with the perfect aircraft for your specific travel needs.
Partnerships: If you sign up for an XO membership, you can access exclusive deals at some of the world's top luxury resorts.
Sustainability: XO uses artificial intelligence and machine learning to optimize its routes — in addition to making your trips faster, this makes the company more energy efficient as well. You can also add a carbon credit fee (XO partners with South Pole for this) to the cost of your flights to offset the fuel consumption involved.
How Flight Reservations With XO Work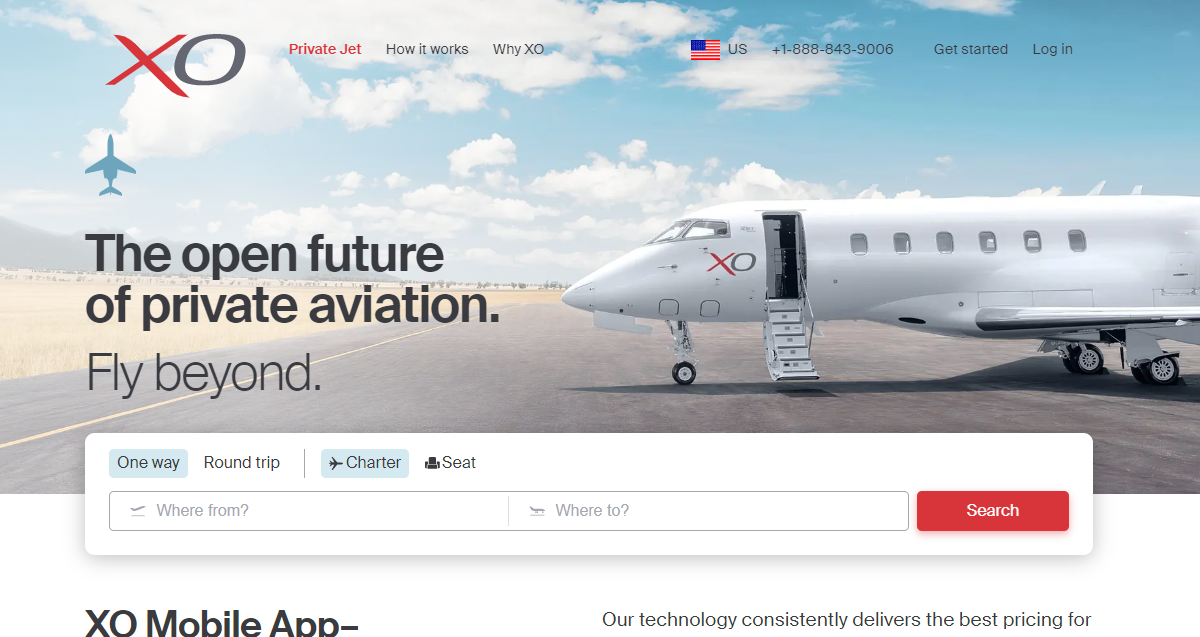 You can book flights through XO's website or its mobile app. This online platform allows you to access XO's marketplace of over 2,100 private jets, taking you to thousands of different airports around the world.
You'll be able to review rates and availability in real-time — this will help you find the best deal for any trip you're considering. If you want to save as much money as possible, the app gives you the option to book a seat and share your flight with others rather than reserve the entire plane for yourself. Once you've decided on which aircraft you want to use, it will only take a couple minutes to complete the entire reservation process.
XO's account management team is available 24/7 in case you run into any issues while using their service. You can reach them by calling 1-888-843-9006 or emailing [email protected]
Types of memberships
While you don't need to be a member to use this service, anyone who flies private somewhat frequently should consider signing up for one of XO's membership programs. The waived service fees alone make the lowest membership tier, Rise, worth the cost if you take at least two flights per year on private jets. The table below will help determine which of the four membership programs  makes the most sense for your budget and travel needs:
| | | | | | |
| --- | --- | --- | --- | --- | --- |
| | No Membership | Rise | Select | Signature | Elite |
| Membership fee | None | $595 per year | $250 per month | $500 per month | $1,000 per month |
| Minimum deposit | None | None | $50,000 | $100,000 | $100,000 |
| Service fee per flight | $395 | Waived | Waived | Waived | Waived |
| Flight pricing | Dynamic | Dynamic | Dynamic | Dynamic | Fixed hourly rate |
| Guaranteed availability  | None | None | Off-Peak days | Peak and off-peak days | Peak and off-peak days |
| Catering credit | None | None | None | $250 per flight leg | $250 per flight leg |
| Membership perks and partnerships | None | Limited access | Limited access | Full access | Full access |
Empty leg deals
When someone books a private jet for a one-way trip, the chartering company may not initially have any passengers scheduled to be on the plane when it returns or moves on to the next destination. These are known as "empty leg" flights, and many providers offer them at a steep discount to at least generate some income from these trips. Indeed, if you can make these flights work for your travel schedule, you'll save a lot of money on private jet flights.
You can find empty leg deals on the XO mobile app — you will usually only get 24 to 48 hours' notice for when they become available, and XO adds dozens of new empty leg flights every day. Also, another benefit to the Signature and Elite membership tiers is that they offer complimentary seats on available empty leg flights.
Surcharges
Non-members are charged a $395 service fee for each flight. Depending on which options you select, both members and non-members may also be charged for incidental expenses such as catering, in-flight entertainment, ground transportation, deicing, and hangar fees.
XO Service Area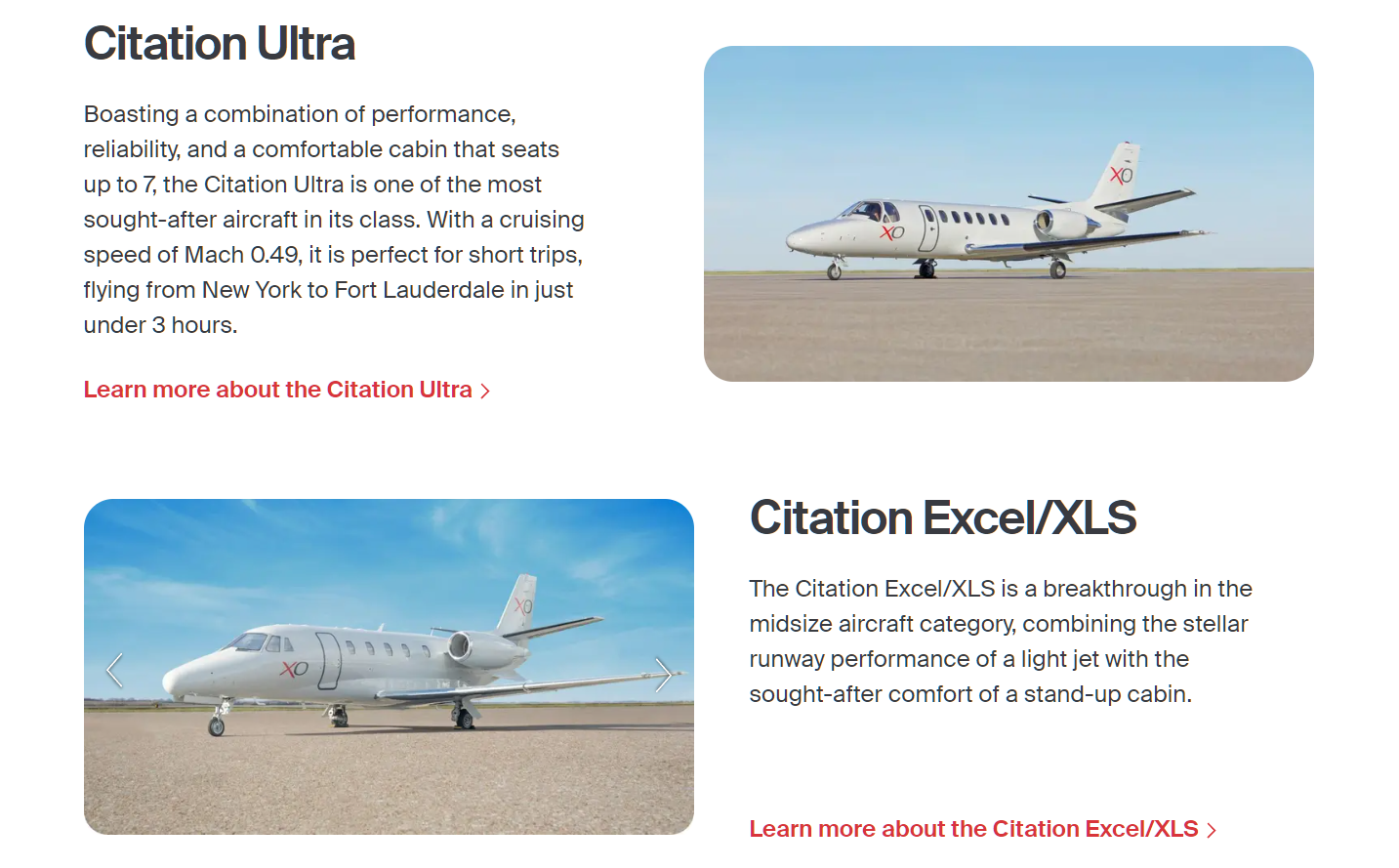 You can use XO to charter a private jet flight to almost anywhere in the world. The options are slightly more limited if you want to rent a seat rather than the entire plane, but these shared flights are still available for most destinations.
Available jets
XO owns a fleet of 350 aircraft, which includes everything from light jets ideal for shorter trips to long-range jets that allow you to cross oceans quickly and comfortably. Overall, this dedicated fleet offers the following aircraft options:
Light: Cessna Citation Ultra
Midsize: Cessna Citation Excel/XLS, Hawker 800XP
Super Midsize: Bombardier Challenger 300, Bombardier Challenger 350, Cessna Citation X, Gulfstream G280, Hawker 4000
Heavy: Bombardier Challenger 850, Bombardier Challenger 604, Bombardier Challenger 605, Gulfstream IV, Embraer Legacy 650
Ultra-Long Range: Bombardier Global 7500, Bombardier Global 6000, Bombardier Global 5000, Bombardier Global Express, Gulfstream G650, Gulfstream V, Boeing 737, Embraer Lineage, Dassault Falcon 7X
In addition to this dedicated fleet, the XO app also provides access to thousands of third-party private jets that have been vetted to ensure they meet XO's strict performance and safety standards.
XO Perks and Partnerships
Most of the jets in XO's dedicated fleet offer complimentary Wi-Fi, and many of the heavy jets include a Cabin Hostess for improved service as well. Also, if you're an XO member, you can take advantage of exclusive deals at vacation destinations such as Kisawa Sanctuary, Fairchild Wines in Napa Valley, and The Hermitage Club at Haystack Mountain.
XO's partnership with Silversands Grenada is particularly valuable. If you'd like to plan a trip to this high-end resort, your XO membership will provide you with benefits such as a complimentary massage, a 20% discount on published room rates, and a credit of either $200 (per room or suite) or $500 (per villa). There's also a private rum tasting event only available for XO members.