Wheels Up Overview
Since they were founded in 2013, Wheels Up has quickly developed into one of the top providers in the private jet industry. It even made history in 2021, when Wheels Up became the first private aviation company to be listed on the New York Stock Exchange.
It's easy to see why this service has been so successful. With a user-friendly mobile app, Wheels Up makes it easier to charter a private jet than any of the competitors. The company offers a huge selection of aircraft options and flight destinations as well. But this won't be the best provider for all travelers, as there are more affordable options available if you're concerned about your budget. In this Wheels Up review, we'll share everything you need to know about this private jet company.
Notable features
Compared to what the other providers in this industry offer, the following Wheels Up features really stand out:
Large selection of aircraft: The Wheels Up marketplace includes a mix of private jets owned by the company and some that are owned by others, providing you with over 1,500 aircraft options.
Worldwide service area: As long as you start or end your trip in the U.S., you can travel to just about any place in the world.
Intuitive mobile app: This provider's online platform makes booking a flight on a private jet nearly as easy as ordering an Uber.
Membership options: There are several Wheels Up membership options available, which offer benefits such as reduced rates and guaranteed availability.
Valuable partnerships: If you invest in a Wheels Up membership, you'll also get access to exclusive deals from brands such as Hertz and Delta.
How Flight Reservations With Wheels Up Work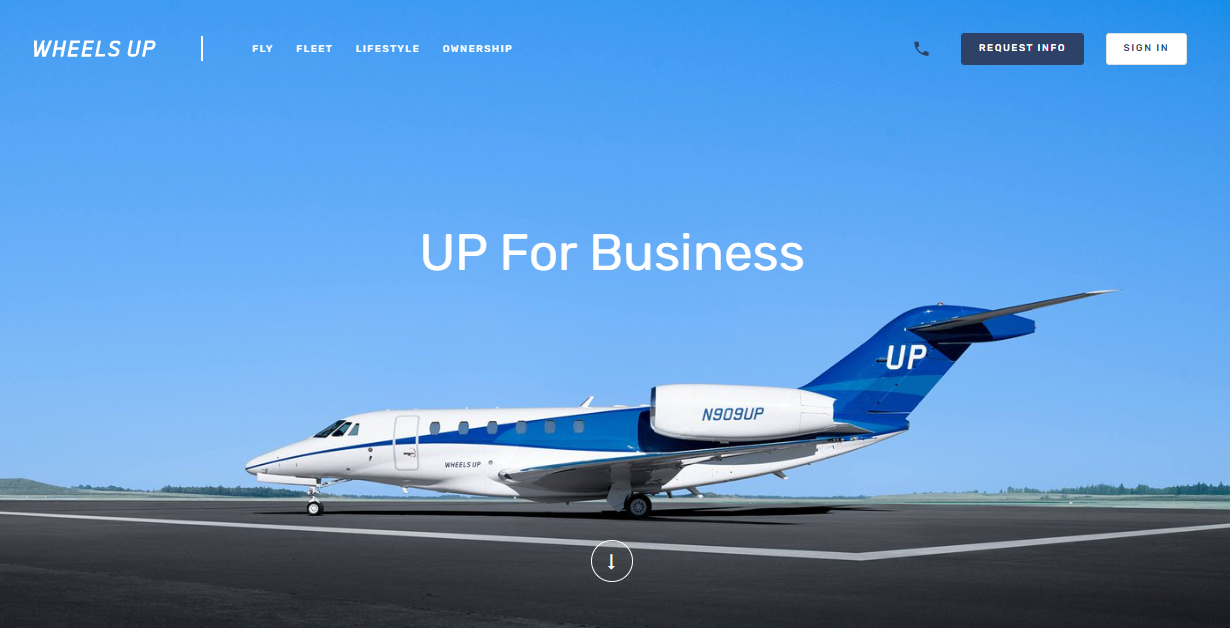 To book a flight with this service as a non-member, you'll first need to download the Wheels Up mobile app (members also have the option of using the Member Website).
This platform, which has a near-perfect 4.9 out of 5 average rating on the Apple App Store, is particularly user-friendly. Wheels Up's extensive fleet of owned, leased, managed, and partner aircraft gives you over 1,500 private jets to choose from. From relatively small turboprop planes like the King Air 350i to large-cabin heavy jets like the Gulfstream G450, you'll find the perfect plane for your travel needs.
First, hit the "Request Flights" button and enter your details, such as the departure date and time, number of passengers, and departure and arrival airports. You also have the option to request catering or ground transportation at this stage. Once you've added all your information, select "Submit" to see which private jets are available for your flight. You can see the real time rates and estimated arrival time for each of your options, and it will only take a couple more clicks to book whichever flight makes the most sense for your trip.
If you run into any problems, you can call 855-FLY-8760 for support. Members also have access to the Wheels Up Community Forums, where you can send direct messages to other users and arrange shared flights to save money.
Types of memberships
While you don't need to be a member to use this service, anyone who flies private regularly can consider taking advantage of the membership programs. Wheels Up offers two membership options for individual users: Connect and Core. There's also UP For Business, a membership program that's designed to meet the needs of companies rather than individuals.
Connect: This option will provide you with access to the Member Website, Community Forums, and additional perks. It requires a one-time initiation fee of $2,995 as well as annual dues of $2,495 starting in the second year of your membership.
Core: Guaranteed aircraft availability with as little as 24 hours' notice, access to your own dedicated account manager, and exclusive deals with other luxury lifestyle brands are among the benefits included with this membership tier. It will cost you a $17,500 initiation fee plus $8,500 annual dues starting in the second year of membership.
UP For Business: From commercial Delta flights to Wheels Up jet flights to aircraft ownership and management, this program will help you access whatever air travel solutions your business needs. No long-term commitment is required, though you will need to open an account with at least $100,000.
Empty leg deals
Another reason to sign up for a membership is that you will have access to discounted "hot flights" available when an aircraft is being repositioned to pick up other members for another flight. These one-way, empty-leg trips are posted daily on the Wheels Up app, and priced as low as $320 per flight.
Surcharges
Non-members will need to pay a transaction fee of $495 for each flight that they book through the Wheels Up app (this fee is waived for members). A federal excise tax will be applied to your flights as well.
Wheels Up Service Area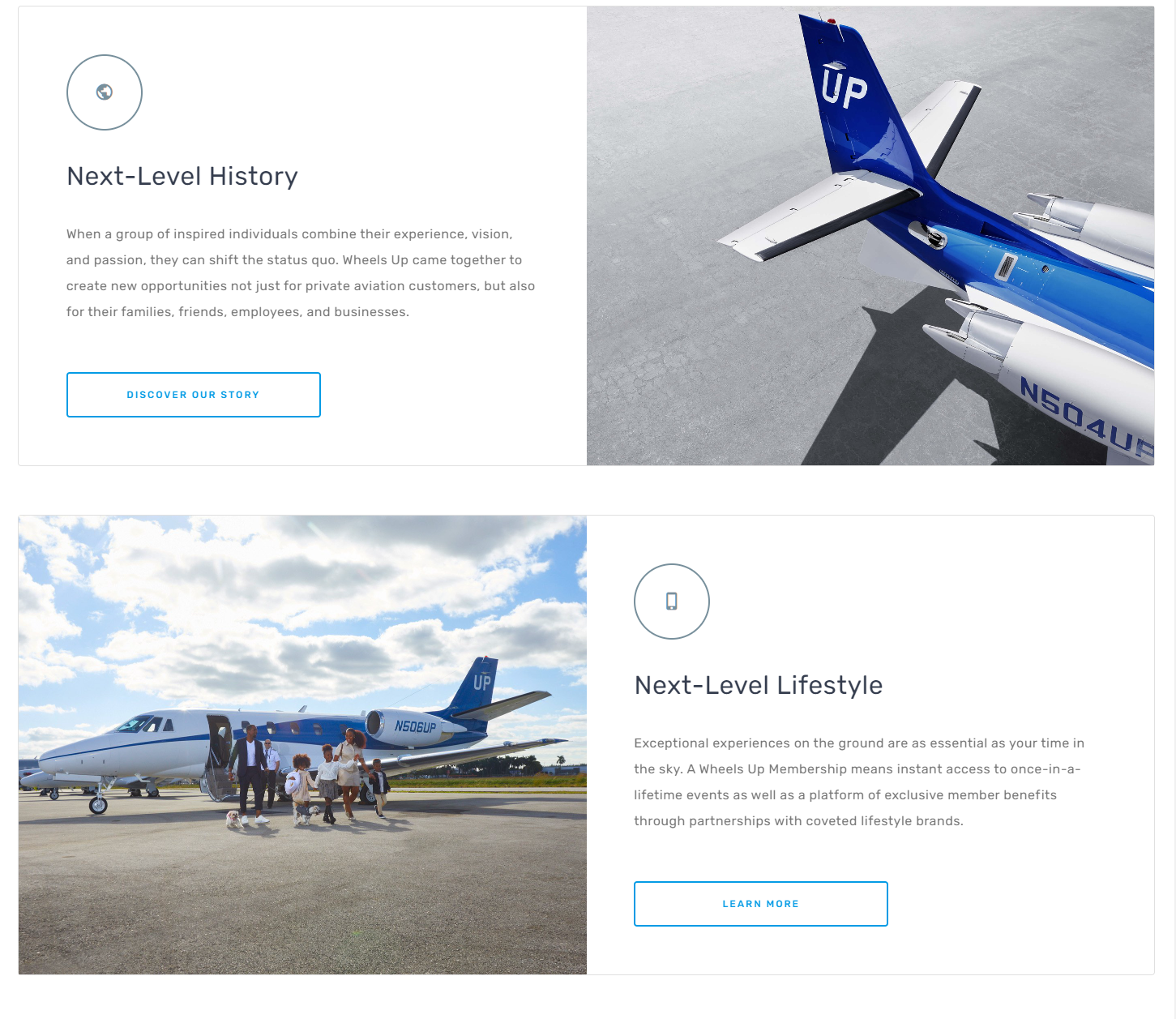 Wheels Up can arrange flights for any point-to-point trip within the U.S. and Europe. The company can also set up flights to just about any other international destination, as long as they start or end in the U.S.
Available jets
In addition to providing a wide variety of flight routes to choose from, Wheels Up offers a particularly strong selection of aircraft. Your options include:
Turboprop planes, including the King Air 350i
Light jets, including the Citation Encore+
Midsize jets, including the Citation Excel/XLS
Super midsize jets, including the Citation X
Large-cabin/long-range jets, including the Gulfstream G450
Wheels Up Perks and Partnerships
Finally, it's worth noting that Wheels Up offers a number of additional perks to its members. The company holds extravagant members-only parties for events such as Super Bowl weekend and Art Basel in Miami. Members will get a chance to attend gatherings with Wheels Up Ambassadors, which include famous athletes, musicians, and business leaders. You'll receive over $35,000 in benefits, such as a complimentary Inspirato membership and President's Circle status with Hertz, and through Wheels Up's partnerships with other brands.
There is also an especially valuable partnership with Delta, which became Wheels Up's largest shareholder in 2019. With the Wheels Up Funds Program, you can conveniently use the same account to pay for either private Wheels Up flights or commercial flights with Delta. Wheels Up members also receive discounted fares on commercial air travel with Delta as well as the ability to earn Delta SkyMiles through their activity on Wheels Up. You may even be able to earn Delta Medallion Status, depending on how much you spend on Wheels Up flights.