NetJets Overview
Founded in 1964 as Executive Jet Airways, the company known today as NetJets was the first private jet service in the world. Now, over 50 years later, it is still one of the most popular providers in the industry. The company knows how to keep clients quite happy, as over a third of the customers have been loyal for over 10 years.
NetJets has maintained such high customer satisfaction due to the large fleet of top-of-the-line aircraft and brand partnerships offering one-of-a-kind experiences for its members. But you'll need to commit to a jet card, lease, or fractional ownership plan in order to use this service, so it's not a cost-effective option for travelers who only occasionally fly private. Below, we'll review everything else you should know about this top private jet service.
Notable features
Compared to other providers in this industry, NetJets has distinguished itself in the following areas:
Fleet: The flagship of this provider's fleet is the Bombardier Global 7500, which has a longer range than any other private jet model. The fleet also includes a variety of light, midsize, and super midsize jets.
Service area: With over 5,000 airports in its network, NetJets can take you almost anywhere in the world.
Partnerships: NetJets offers its members incredible experiences through relationships with brands such as Rolls-Royce and the PGA.
How Flight Reservations With NetJets Work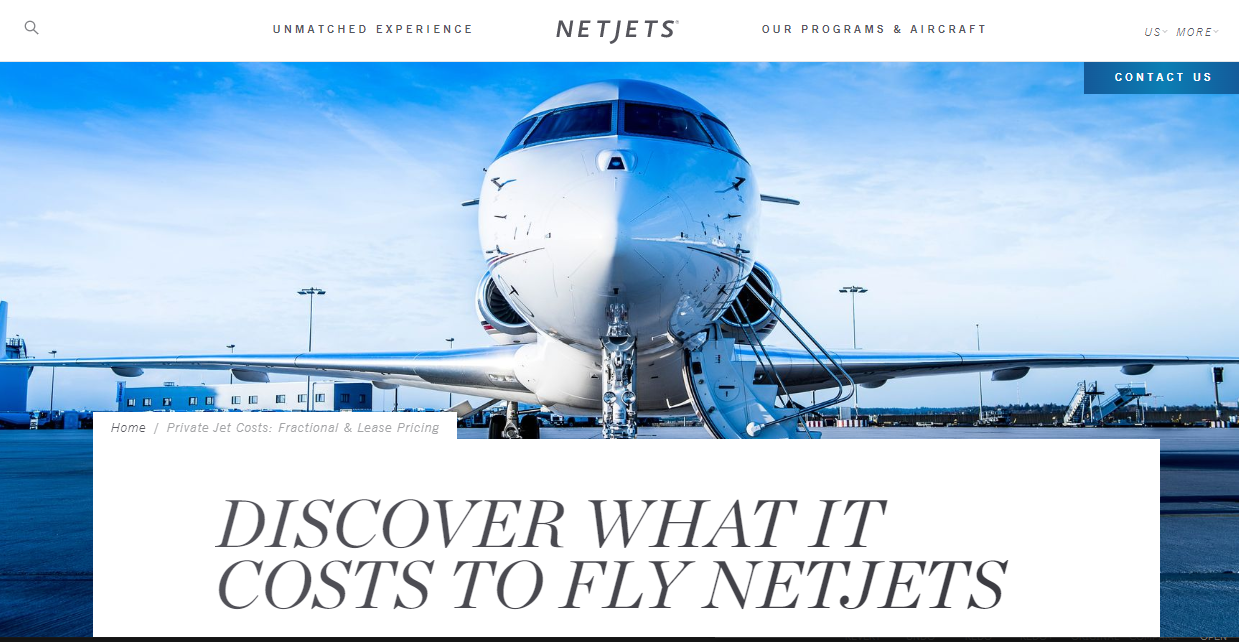 Once you're a NetJets member, you can book flights on the website. You can also schedule trips using the NetJets mobile app, which is available for both Apple and Android. This app offers the following features.
Arrange your flights: Choose your next destination and complete the entire booking process through the NetJets mobile app. There's also a flight calculator tool that allows you to quickly estimate the travel time for any flight you're considering.
Access FBO information: Review the name, address, and phone number for your departure and arrival fixed-base operators within the app. You can also easily share this information with friends, family, and anyone else who needs to know.
Manage your flights: Once you're in the air, use this app to place your order for in-flight dining and coordinate ground transportation for when you land.
If you ever run into any issues, you can call the NetJets customer service line at 1-877-356-5823.
Types of memberships
While there is a NetJets subsidiary called Executive Jet Management that allows you to charter flights as needed without a membership, NetJets itself does not offer this option. Instead, you'll need to choose one of the following membership programs:
NetJets Card: This option is ideal for travelers who spend between 25 and 50 flight hours per year on private jets. You'll pay in advance for 25 flight hours at a time, and in exchange get guaranteed access to the fleet with as little as 10 hours' notice. This program is very flexible — for example, you can use an affordable light jet for shorter trips then switch to a more comfortable large-cabin jet for longer trips. Note there are 90 no-fly days when you won't be able to use your card, though.
NetJets Share: If you spend more than 50 flight hours per year on private jets, NetJets Share will likely be a better deal for you than the NetJets Card. This fractional ownership program involves purchasing a share of a specific serial-numbered aircraft. You can access your jet with just four to six hours' notice, with the exception of 10 peak period days when you'll need to give more notice. There are more restrictions on adjusting your departure time during these peak days as well.
NetJets Lease: This is essentially a combination of the NetJets Card and NetJets Share programs. You'll need to buy 25 flight hours at a time, and pay for access to a specific aircraft rather than the whole fleet. You can book flights with as little as 24 hours' notice. For travelers with an entry-level lease, there are 45 no-travel days and 45 peak period days. If you commit to at least 50 flight hours on your lease, you won't need to worry about no-travel days, and there will only be 10 peak period days.
Empty leg deals
When private jets are booked for one-way trips, there may not be any passengers initially scheduled to be on board when it returns back to base or flies to the next destination. These trips are known as "empty legs," and private jet companies often offer steep discounts for empty leg flights so they can at least make some money. One significant drawback to NetJets is that, unlike many other private jet services, it does not provide empty leg deals.
Surcharges
There are several fees involved with the NetJets Share and NetJets Lease programs, including a monthly management fee, an occupied hourly fee (this covers expenses such as maintenance, cleaning, and catering), and a fee for fuel consumption. You may also be charged a repositioning fee, but this is waived by NetJets for flights within the continental U.S. or between the continental U.S. and the most popular international destinations.
NetJets Service Area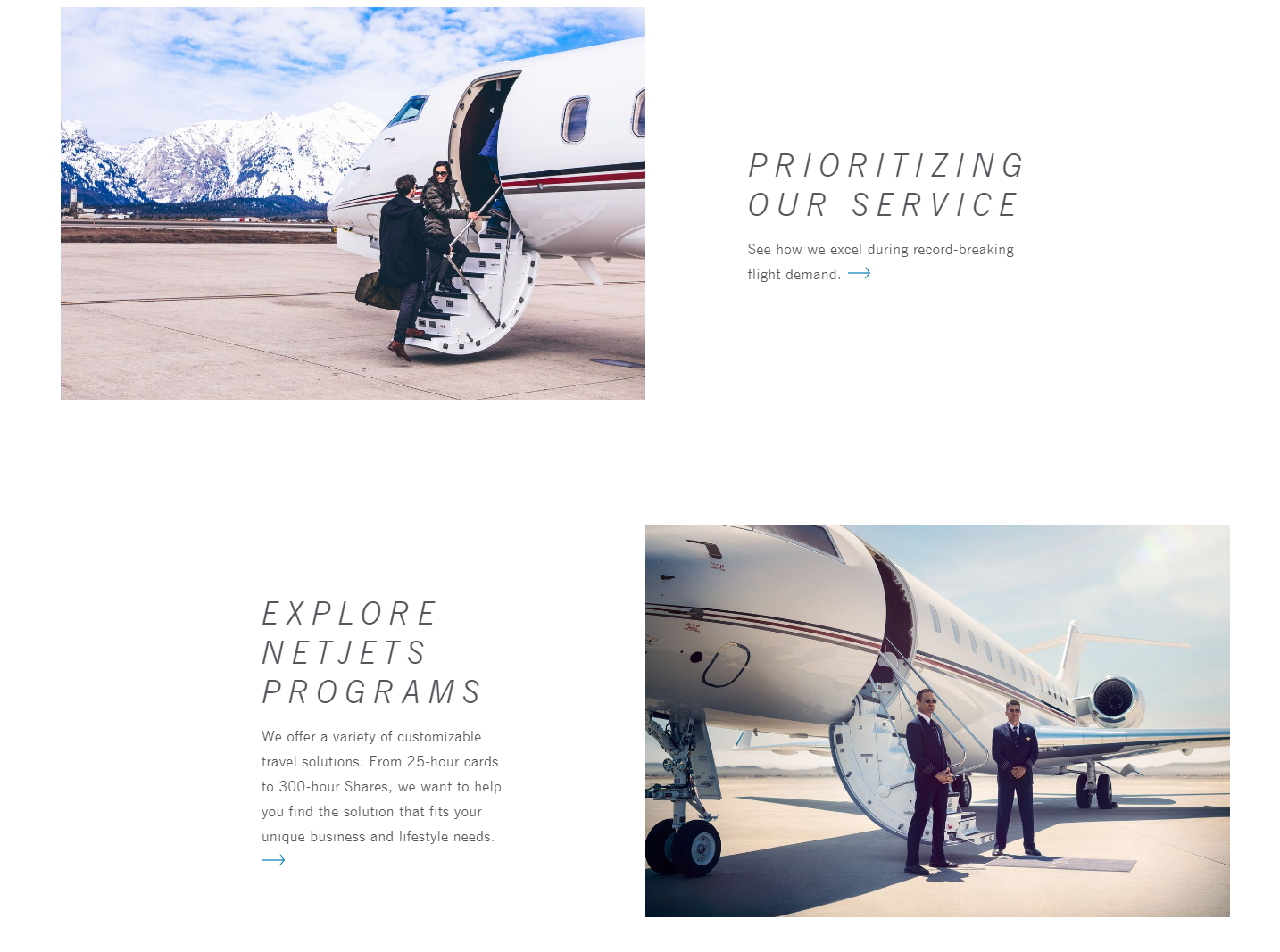 The NetJets service area includes over 5,000 airports, which are located in over 200 countries. This provider can take you almost anywhere in the world.
Available jets
NetJets is able to offer such a large service area because its fleet includes aircraft such as the Bombardier Global 7500.  This plane can carry 14 passengers for up to 16 hours, making it one of the best private jets for long-range travel. The company offers lighter jets that are better suited for short and medium-distance trips as well. Overall, the fleet includes the following aircraft:
Light: Embraer Phenom 300/E
Midsize: Cessna Citation XLS, Cessna Citation Sovereign, Cessna Citation Latitude
Super midsize: Cessna Citation Longitude, Bombardier Challenger 350
Large: Bombardier Challenger 650
Long-range: Bombardier Global 5500, Bombardier Global 6000, Bombardier Global 7500
NetJets Perks and Partnerships
This provider offers some truly excellent benefits to its members. Every year, NetJets invites some of the top aviation caterers in the world to its headquarters to further improve its in-flight dining. NetJets is also highly selective about ground transportation partners, ensuring that your rides to the airport are always safe and clean.
NetJets maintains partnerships with many other brands — your membership will provide you with perks such as complimentary stays at world-class resorts, VIP access at premier equestrian events, and the opportunity to play alongside professional golfers at the pro-am NetJets Cup. If you're interested in private jets for the luxurious experience rather than just getting from point A to point B, this should be one of the first providers you consider.